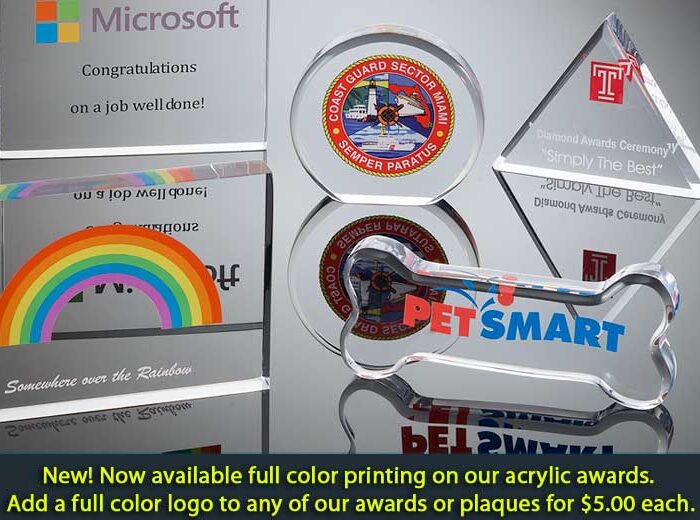 Please note our pricing includes laser engraving.
There is a one-time logo set up fee of $35.00.
All artwork and logos must be submitted in black and white.
The clearer your artwork is, the better your logo will appear.
If you have any questions feel free to contact us.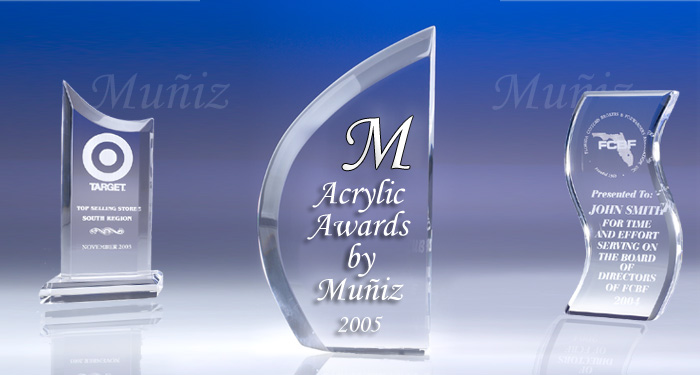 We have a large selection of Acrylic Awards and Plaques, as well as acrylic paperweights. Many styles, sizes and colors to choose. When you buy from us, you are buying direct from the factory. So not only are you buying quality acrylic awards, but you are also getting great direct from the factory pricing. Please take your time browsing the website, and see why, many Fortune 500 companies, Top Universities, Charities and leading organizations as well as small independent businesses choose us for all their Acrylic Awards. Also keep in mind that custom Acrylic Awards is our specialty.

The Acrylic Award You Need
When browsing through our awards, please keep in mind that we are a factory and therefore can make modifications to most of our acrylic awards, acrylic plaques and acrylic trophies. We can also help you design an acrylic award tailored specifically for your needs. Take a look at our acrylic award designs we have, and let us know how we can customize it for you.
Custom Acrylic Corporate Award Designs
When it's time for your company to create a custom acrylic award to honor employee service and serve as a token of recognition, call us to help you with your design. We'll help you to create a custom acrylic award, acrylic plaque or acrylic trophy that will look fantastic as a recognition award. Acrylic corporate awards, acrylic trophies and acrylic plaques are quite popular among companies large and small. Below are some of the companies we have made acrylic awards for:
| | |
| --- | --- |
| PETSMART | MARSHALLS |
| AT&T | BEST BUY |
| DIRECT TV | EXXON MOBILE |
| AUTO ZONE | FBI |
| U.S COAST GUARD | YMCA |
| BANK OF THE WEST | NAACP |
| UNITED WAY | AOL |
| L-1 BIOMETRICS | WOMEN'S RUNNING MAGAZINE |
| ZYNGA GAME NETWORKS | MEDTRONIC |
| SPRINT | WAL-MART |
| LULAC | ALICO |
| THE CHUBB INSTITUTE | PHILIPS ELECTRONICS |
| NATIONAL ASSOCIATION OF GOVERNMENT COMMUNICATORS | |
| MUSE AWARDS | PROGRESSIVE INSURANCE |
| AMERICAN RED CROSS | GULFTREAM CONSTRUCTION |
| U.S. DEPARTMENT OF HEALTH AND HUMAN SERVICES | |
| WARN | MCDONALD'S |
| ALCATEL-LUCENT | ADP |
| GE | ACURA |
| YAHOO | BUDDY TV |
| CATERPILLAR INC. | REDBOOK MAGAZINE |
| CIRCUIT CITY | CHASE BANK |
| COMMERCEBANK | BECKMAN COULTER |
| TGA NATURAL GAS | TEMPLE UNIVERSITY |
| BROOKS BROTHERS | GENERAL DYNAMICS |
| KENTUCKY TOURISM | COLGATE DEVELOPMENT |
| MARRIOT | MARCH OF DIMES |
| MICROSOFT | CAPITAL ONE |
| VERIZON WIRELESS | BMI |
| EASTMAN CHEMICAL | BANK OF AMERICA |
| INTERCONTINENTAL BANK | INDYMAC BANK |
| FORMULA ONE RACING | UNITED STATES AIRFORCE |
| WELLS FARGO | ADDY AWARDS |
| NEW YORK LIFE | YOUNGSTOWN YACHT CLUB |
| TEXAS STATE AQUARIUM | IDEARC MEDIA |
| SEARS | DISNEY |
| UCAR | GEICO |